Special Experiences

Legacy of a Pearl Harbor Survivor, Will Lehner Remembers – Book
Will Lehner's book, "Legacy of a Pearl Harbor Survivor, Will Lehner Remembers" is still available from his daughter Patti. She can be contacted directly at her email: padamski@charter.net. The $10 cost of the book is donated to the Never Forgotten Honor Flight. A video. celebrating Will & his 12/7/2019 book signing is available as well at the following web site: https://www.pisarskifuneralhome.com/obituary/will-lehner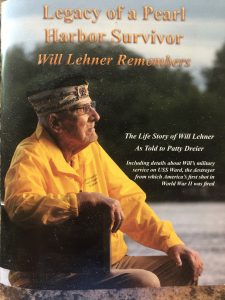 Honor Flight – The Movie
Honor Flight is a heartwarming documentary about four World War II veterans and a Wisconsin community coming together to give them the trip of a lifetime. The Honor Flight Movie is available for purchase (Click Here for more info) also available on Netflix!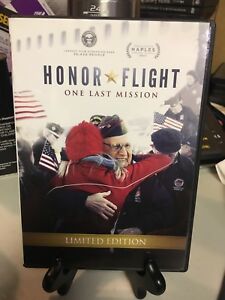 Mike Michalak has attended all 48 Hodag Country Festivals! His current book "An Insider's Look at the Hodag Country Festival" is available on E-Bay. A $1.00 from each book sale is being donated to the Never Forgotten Honor Flight!! Would make a nice gift for your Country Music Friends, don't you think?!
OSO'S Never Forgotten 2.0 is in the market. Check your local grocery store & ask for it at your favorite drinking establishments!!
Never Forgotten Honor Flight Beer| O'so Brewing (osobrewing.com)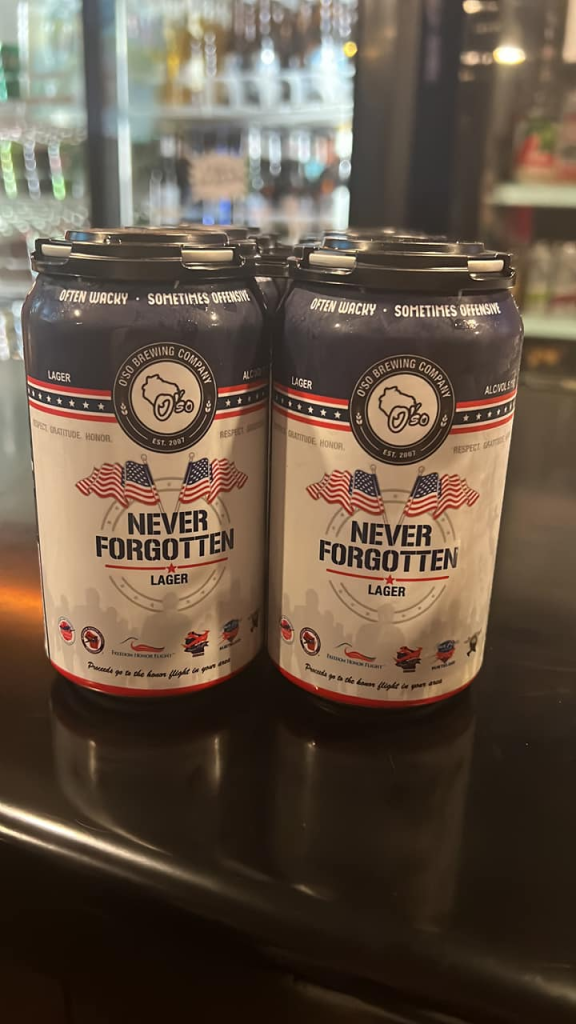 2023
JANUARY
11 – Marathon County Veterans Resource coalition
FEBRUARY
1 – Sage Sisters fund raiser donation, Antigo
1 – Inaugural Antigo Boys Basketball Team donation (#144), Antigo HS Fieldhouse
3-4 Inaugural Pond Hockey fund raiser (#145), Minocqua (More Info)
17 – Stevens Point Brewery fund raiser donation
23 – Rib Mountain Elementary School NFHF prezo –
MARCH
2 – Twice Is Nice, photo op & Ck prezo, Rhinelander
13 – Orange County Chopper Honor Flight Dream Bike competition begins
17 – PJ Jacobs fund raiser prezo, Stevens Point
17 – Relax Property Pros Ck prezo, Minocqua
18 – Weik's Bar & Grill Inaugural Poker Run for NFHF (#146), Rib Falls
22 – NFHF prezo & ck prezo Stevens Point Rotary Club (#259)
25 – Weik's Bar & Grill Inaugural Pool Tourney for NFHF (#147), Rib Falls
26 – VFW post 388 pancake breakfast for NFHF (POSTER), Wausau
26 – VFW post 6352 Breakfast for the NFHF 0730-1200, Stratford (POSTER)
27 – Be Amazing veteran blanket prezo, DC Everest Middle School 1830 Hours
APRIL
8 – WI Wildlife Federation Check prezo, Marshfield Country Club
10 – Weik's Bar & Grill Check prezo, Rib Falls
12 – Marathon County Veterans Resource Coalition
12 – NFHF prezo (#260) AL Post 442 WI Rapids
12 – Will LaZott NFHF alumni check prezo, Kronenwetter
13 – Wausau Area Chamber of Commerce Small Business of the Year, Hilton Garden Inn
14 – $70,000.00 Flight Sponsor Donation!! Helen in Wisconsin Rapids
15-14th anual Bull Falls Brewery Honor Flight 5K Boch run/walk (CLICK HERE TO REGISTER)
17 – NFHF Mission #43
22 – The Cellar Sport Bar & Grill Inaugural (#148) Dart Tournament, Stratford (POSTER) (T-SHIRT)
28 – VETERANS BENEFITS EXPO, Rhinelander Hodag Dome
29 – Loyalty Day Parade, Merrill
MAY
3 – Carpenters Union Local 302 donation, Kronenwetter
11 – NFHF prezo (#261) Phillip's Middle School
15 – NFHF Mission #44
20 – Demo Derby for the NFHF, Marshfield Motor Speedway (POSTER)
20 – Armed Forces Day celebration NFHF fund raiser (#149), Wausau Airport
20- OSO's Brewery's 2nd Annual NFHF 5k (also watch for the 2023 Honor Flight light lager beer!)
24 – Jeff & Pat ck prezo (wedding $$), Wausau
JUNE
2-3, B's Tap, multiple concerts, 5k & classic car ride (to Fill the Plane), Wisconsin Rapids (POSTER)
10 – Knights of Columbus 4th Degree cookout for the NFHF, Metro Mart in Plover (POSTER)
15 – Veteran Call Night for 2023 Fall Flights
17 – Donna's Showboat Westside ATV/UTVs Fun Ride, Junction City (POSTER)
22 – Knights of Columbus 4th Degree check prezo, St Matt's School Wausau
22-25 THE NORTHERN ROUNDUP VINTAGE CAR WEEKEND 2023, Deerbrook (POSTER)
($20 raffle tickets for a 1990 Corvette, proceeds going to the NFHF, will be available soon)
JULY
4 – Lead the 4th of July Parade with 100+ NFHF veterans, Minocqua
6 – UCC Thrift Shop donation, St. Germain
6 – St. Matthias deliver framed photo, Minocqua
6 – Guardian Call Night for 2023 Fall Flights
8 – EAA Wausau Chapter NFHF fundraiser donation-($1,000), Wausau Airport
6-9 -45TH annual Hodag Country Festival & the 2nd "Pack the Plane" for the NFHF!!, Rhinelander (POSTER)
9 – Accept Hodag Country Festival's Flight Sponsorship check (their 2nd!), 1830 hrs Rhinelander
10 – NFHF PREZO (#262) BIRCHWOOD APARTMENTS, WESTON
10 – Bull Falls Brewery fundraiser presentation form 2023 5k, Wausau
12 – Marathon County Veterans Resource Coalition
14 – Marshfield Parish Pull benefiting the NFHF, Marshfield (POSTER)
15 – 6th annual Gold Key NFHF golf outing, Marshfield (POSTER) (REGISTRATION)
15 – 9th annual At Your Feet Foundation Golf, Merrill Golf Course (POSTER)
18 – Eagle River Speedway 50/50 fund raiser for the NFHF, 6 pm start in Eagle River
20- Inaugural (#150) 3rd Coast Advisors golf for honor flight (NFHF & BHF), The Oaks GC Cottage Grove (POSTER)
22 – Bonnie & Clyde Gangster Park Summers National Auto & Motorcycle show, Harshaw (POSTER)
22 – American Tribute Ride for the NFHF & prezo (#263), Wisconsin Rapids
26 – N. Wisconsin Houndsmans Association fund raiser prezo, GHF in Weston
29 – 8th Annual Northwoods Honor Flight Benefit, Rhinelander (POSTER)
29 – 3rd Annual Barbells and Brews for the NFHF, Stevens Point (MORE INFO)
31 – Drexel building supplies NFHF prezo (#264), zoom
AUGUST
5 – 11 th Annual Deerbrook Rumble (POSTER) (POSTER)
6 – Annual Arpin Car Show for NFHF (POSTER)
10 – Check prezo Golden Key Century 21 6th annual golf outing, Marshfield
12 – Veteran's Tribute at Bull Falls Brewery, Wausau (INFO)
13 – Lincoln County Veteran's Picnic (POSTER)
15 – Eagle River Speedway, 50/50 for the NFHF, Eagle River
18 – Minocqua Forest Riders Snowmobile Club Brat Sale for the NFHF (#151), 1100-1400, Trigs in Minoqua
21- NFHF Incredible Bank 13th Annual Charity Golf Outing, Greenwood Hills (POSTER & REGISTRATION)
22 – 10 Annual Water Walkers' Water Ski Show for the NFHF, 6:30 pm Eagles Landing Lake Wausau
27 – Demo Derby, (May 20th) donation Marshfield Fair Grounds
28 – BSA Troop 548 July 4th Parade fund raiser donation, Tomahawk
SEPTEMBER
5 – Stratford VFW & Aux Post #6352 breakfast fundraiser donation
8 – Rothschild Krist employees' donation, Kronenwetter
9 – Annual Derek Jones and the 50 South Concert, "Fill the Plane Campaign", Grand Rapids Lions Park – Wisconsin Rapids (POSTER)
10 – Guns n' Hoses Softball game, Zenoff Park Stevens Point 1300 hrs. (POSTER)
10 – Annual Loyal Car Show, Loyal (POSTER)
14 – NFHF BOD Meeting
15 – 6th annual IOUE Local 420 golf outing, Golden Sands GC in Cecil (more info)(POSTER-Registration)
16 – Bonnie and Clyde's 2nd annual (#252) Fall Ride NFHF, Harshaw
17 – Justin Mondeik Racing Golf Scramble for NFHF & Neighbors Place, X to C Golf Course (POSTER), Gleason
21 – Attend Wausau Chamber of Commerce annual meeting
23 – Fletcher Kids Bake Sale Donation, Cracker Barrel Lake Nokomis
23 – Inaugural Northwoods Honor Flight Benefit Golf outing, Rhinelander
25 – NFHF Mission #45
OCTOBER
8 – Bingo for the NFHF, Loyal American Legion, noon – 3pm
11 – Marathon County Veterans Resource coalition
11 – NFHF prezos (#s 265, 266, 267 & 268) all employees at Merrill Steel, Weston
11 – Knights of Columbus donation, Stevens Point
12 – NFHF BOD Meeting
14 – Northwoods Benefit Annual ATV/UTV Poker Run Ride, Rhinelander
16 – NFHF Mission #46
26 – Marshfield Parish Pull ~ CELEBRATE SUCCESS ~ Evening
NOVEMBER
6 – NFHF Prezo (#269) retired teachers of Portage County, Stevens Point
9 – NFHF BOD Meeting
11 – Central Wisconsin Polk club's annual dance fundraiser for NFHF, Wausau
27 – NFHF Prezo (#270) Wisconsin Rapids Rotary Club
DECEMBER
13- Marathon County Veterans Resource coalition
14 – NFHF BOD Meeting
2024
AUGUST
3 – 12th Annual Deerbrook Rumble
24 – 14th Annual NFHF Incredible Bank golf Outing