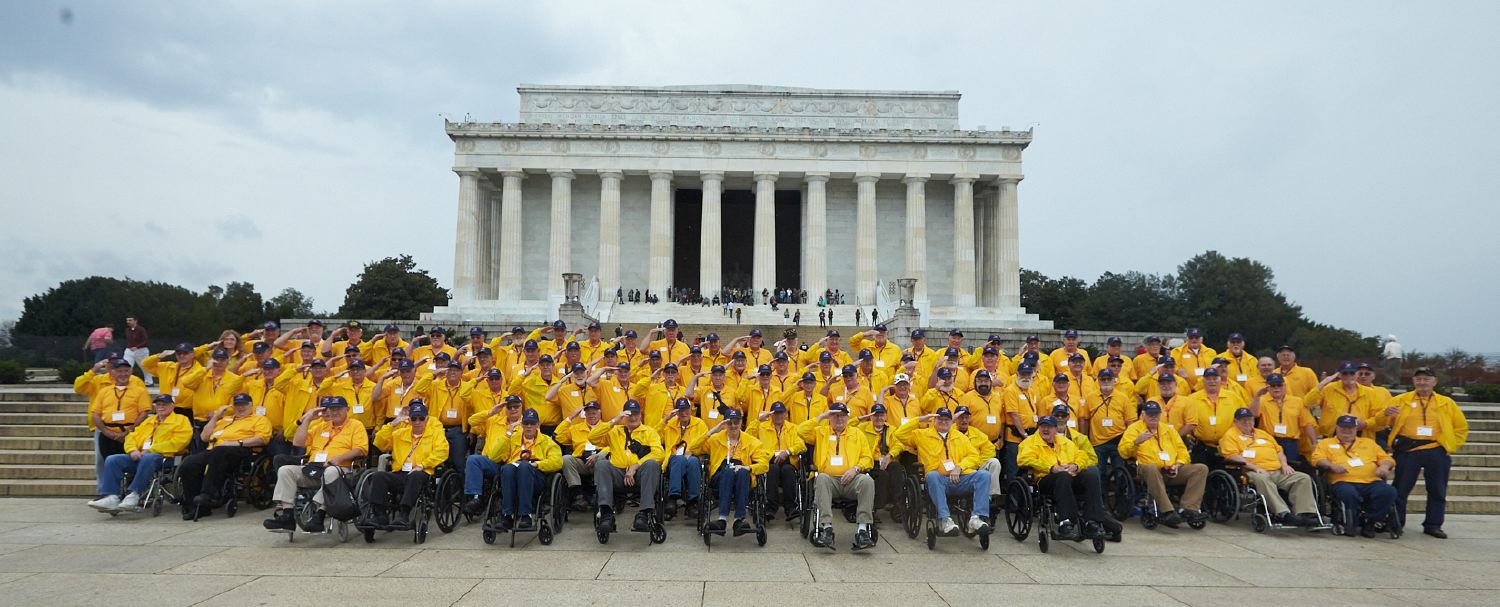 Flight #34 – October 15, 2018
103 Veterans (1 WWII, 2 Korea & 100 Vietnam era) Roster at the Bottom
3,148 TOTAL VETERANS FLOWN ON FLIGHTS I-XXXIV 2010-2018; (1,042 WWII, 1,169 KOREA, & 937 VIETNAM)

TOTAL GUARDIANS FLOWN ON FLIGHTS I-XXXIV(2010-2018) 1,891
Click here for Dave Junion's Photos–CLICK HERE!
"any image you would like just 1) click on the thumbnail 2) a large image will come up. Download that image. 3) play hard…Play happy… Reminder the section page headers are under the title, click on each section to see another series of photos……… (1581 photos)  Thanks. Dave"
Mission #34's Itinerary went off exactly how we planned it……NOT!!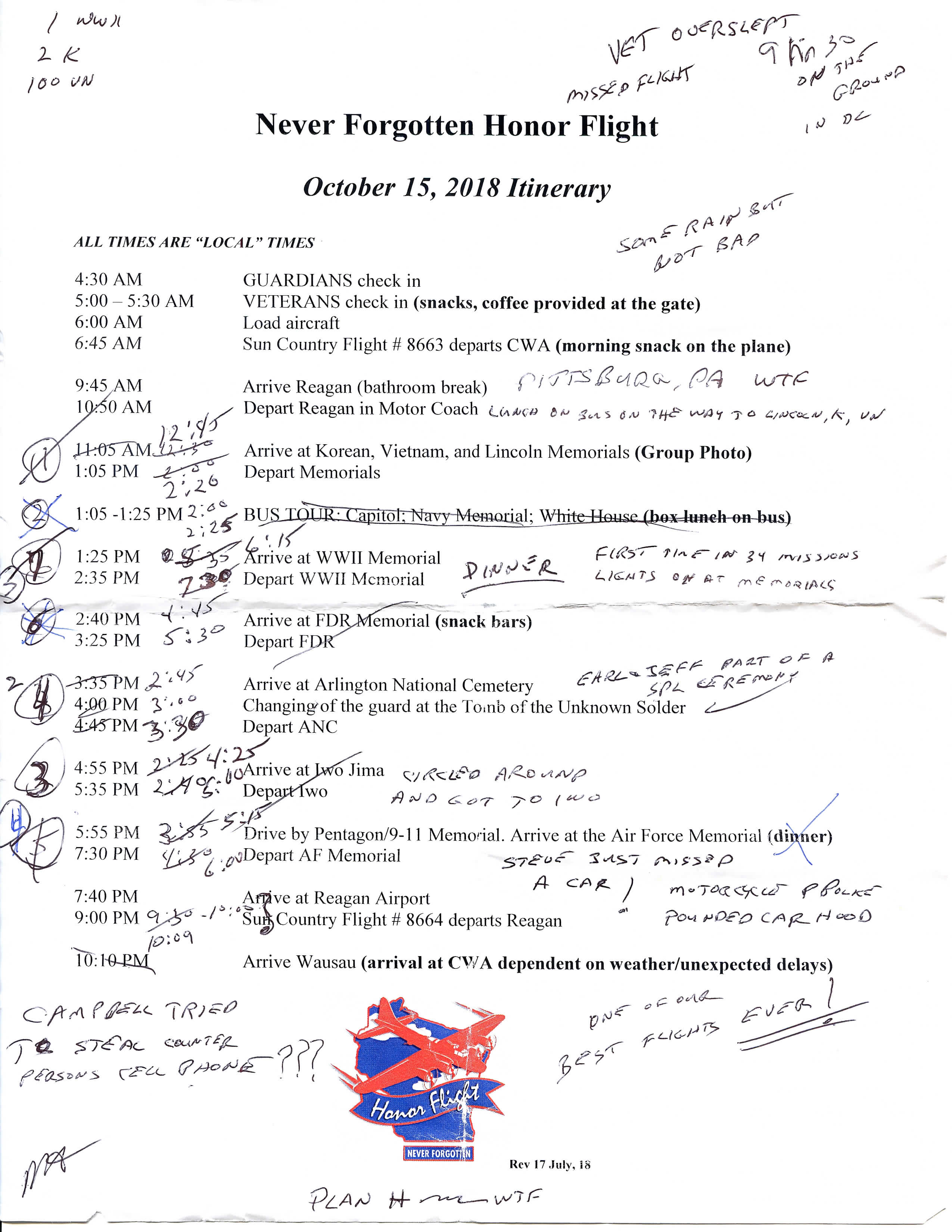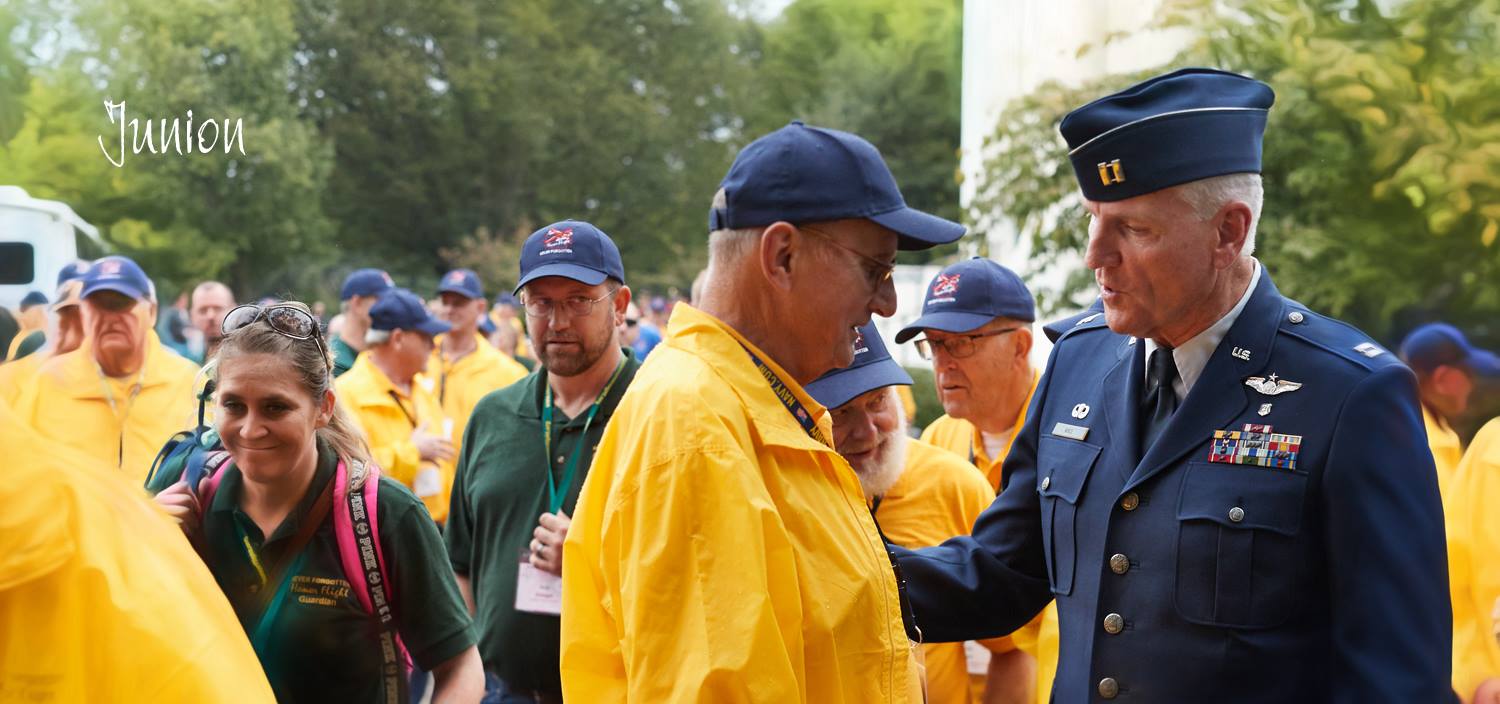 Honor Flight Network Founders Earl Morris (above) and Jeff Miller (below) talking with our Honored Veterans
Special Wreath Laying Ceremony at the Tomb of the Unknowns by the Honor Flight Founders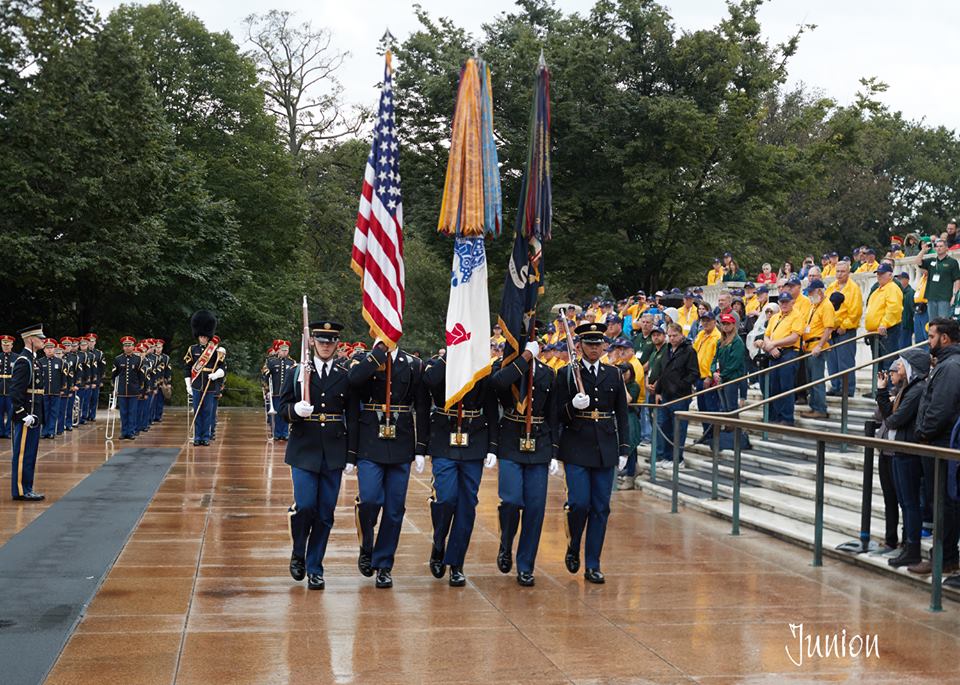 Bottoms up view of the Air Force Memorial
Etching of his comrade's name from the Vietnam Wall
Thank you letters/notes/emails:
American Legion Aux 519 Neilsville
Boomtown Snow Chasers Snowmobile Club Honoring Hilarion Michlig Mission #23 on 18 April 2016
George Krug Family Honoring George A. Krug Mission #20 on 11 May 2015
Glenda Czech honoring Leon Vytlacil Mission #4 on 2 May 2011
Jessi & Mitch Musicant in memory of NFHF volunteer Barbara Brown
KOC Fr. Trantow Council 5415 Eagle River
Mary M Bajeh in memory of NFHF Volunteer Barbara Brown
St. Francis School District in memory of NFHF Volunteer Barbara Brown
Warren & Margie Austin honoring WWII Veteran Raymond Manlick
St. Francis School District, Special Ed Dept in memory of NFHF Volunteer Barbara Brown
Jerry Otterholt USW 460 Tomahawk
American Legion Post 6 Stevens Point
American Legion Post 502 Wittenberg
Marathon County Dept. of Social Services
Military Exploring Post 120 Wisconsin Rapids
Gassner and Associates honoring WWII veteran James Gassner Mission #6 October 17, 2011
Viola Hoppe honoring WWII veteran Norman Hoppe Mission #11 April 23, 2013
Susan Thielke honoring Korea veteran Allan Thielke Mission #10 October 22, 2012
Karen Watzlawick honoring veteran Steve Watzlawick
Smokey Express Christmas Show honoring WWII Lawerence Mansavage Mission #2 October 4, 2010
Judy Lombard honoring WWII veteran William Rossman, Jr. flew on Stars and Stripes HF
Bill and Sherry Fischindorf honoring WWII veteran Donald Beseler Mission #1 April 27, 2010
Relie Ashbeck honoring Vietnam veteran Gerald Ashbeck Mission #30 October 9, 2017
Beulah Metz family honoring Mark Metz Vietnam veteran on Mission #22 October 12, 2015
Al & Barb Brace honoring NFHF volunteer Barbara Brown
Associated Bank, Stevens Point
Walk About Paddle & Apparel, Eagle River
St. John Evangelical Lutheran Church & School, Merrill
Kennedy Elementary School, Junction City
Church Mutual Employees Corporate Offices
Konkol Family Holidays' Donation
Trinity Lutheran Church Birnamwood
Pittsville VFW Post 7131, American Legion 153
Associated Bank-Northwoods Area
Janice Smith honoring Korea veteran Fred Parent Mission 23 April 18, 2016
Ashbeck family and friends honoring Vietnam Era Veteran Gerald Ashbeck Mission 30 October 9, 2017
St Andrew Lutheran Ladies Aid Medford
Greenheck Fan Corp Louver Unit employees
Jorgensen Clark Wick Meshun honoring WWII veteran Robert Egan Mission 5 September 2011
WI Assoc Home and community Education
Rudolph Community Bowlling Committee
VFW Post 2534 Wisconsin Rapids
Wausau Coated Products Inc Fund
Red Hat Friends of Bevent and Shantytown
Russ Wadzinski and Susan Horton Honoring WWII veteran Clemens Wadzinski Mission 6 October 17, 2011
Hass and Steffek honoring WWII veteran Bob Egan Mission 5 September 19, 2011
Janice Schroepfer honoring Cyril Tatro
Livingstons honoring WWII veteran Bob Egan Mission 5 September 19, 2011
Schneiders and Holcombs Honoring WWII veteran Edward Hersberger Mission 6 October 17, 2011
Schellenberg and Jerome Konopacky family honoring WWII veteran Bud Konopacky Mission 6 October 17, 2011
Lake Camelot Lodge in Rome honoring Vietnam veterans Joe Austin and Bill Scholzen
| Action | Last | First | City | BRANCH |
| --- | --- | --- | --- | --- |
| Vietnam Era | Akerberg Sr. | Larry | Phillips | Army |
| Vietnam Era | Anderson | Gene | Wisconsin Rapids | Navy |
| Vietnam Era | Anklam | Larry | Wausau | Air Force |
| Vietnam Era | Berna | Henry | Weston | Navy |
| Vietnam Era | Biesel | Frank | Wausau | Army |
| Vietnam Era | Biesiada | Henry | Hamburg | Army |
| Vietnam Era | Black | Theron | Harshaw | Navy |
| Vietnam Era | Boyd III | John | Wausau | Air Force |
| Vietnam Era | Bradley | Richard | Fenwood | Navy |
| Vietnam Era | Brandl | Leonard | Milladore | Marines |
| Vietnam Era | Brandner | Richard | Ogema | Marines |
| Vietnam Era | Bricko | Lyle | Wausau | Army |
| Vietnam Era | Buettner | Gilbert | Wausau | Air Force |
| Vietnam Era | Burggraf | Paul | Stratford | Army |
| Vietnam Era | Buza | LeRoy | Stevens Point | Army |
| Vietnam Era | Christiansen | Wayne | Wausau | Marines |
| Vietnam Era | Cimarelli | John | Iron River | Army |
| Vietnam Era | Clark | Robert | Amherst Jct. | Marines |
| Vietnam Era | Cline | Larry | Wausau | Air Force |
| Vietnam Era | Day | William | Plover | Army |
| Vietnam Era | Derfus | Ronald | Marshfield | Army |
| Vietnam Era | Dering | Gilbert | Wausau | Army |
| Vietnam Era | Detert | Richard | Mosinee | Navy |
| Vietnam Era | Dietze | Bruce | Medford | Army |
| Vietnam Era | Esker | Roger | Weston | Army |
| Vietnam Era | Evans | Roger | Elcho | Army |
| Korea | Feigleson | James | Stevens Point | Navy |
| Vietnam Era | Fenhaus | Don | Wausau | Army |
| Vietnam Era | Filtz | Robert | Rosholt | Army |
| Korea | Fouts II | Joseph | Marshfield | Army |
| Vietnam Era | Frost | Kenneth | Wisconsin Rapids | Army |
| Vietnam Era | Gallup | Robert | Iron River | Air Force |
| Vietnam Era | Gauthier | Charles | Lac du Flambeau | Marines |
| Vietnam Era | Geiger | Gerald | Antigo | Navy |
| Vietnam Era | Gidlund | Clifford | Wausau | Army |
| Vietnam Era | Glodowski | Daniel | Wausau | Army |
| Vietnam Era | Graf | Walter | Pittsville | Army |
| Vietnam Era | Halverson | Orville | Stevens Point | Army |
| Vietnam Era | Harris Jr. | Ernest | Wausau | Army |
| Vietnam Era | Hellmich | David | Wisconsin Rapids | Air Force |
| Vietnam Era | Jacobs | Michael | Wausau | Navy |
| Vietnam Era | Jaecks | David | Wausau | Navy |
| Vietnam Era | Jauch | John | Wausau | Army |
| Vietnam Era | Karlen | Michael | Tomahawk | Army |
| Vietnam Era | Keene | Christopher | Wausau | Navy |
| Vietnam Era | Kettunen | David | Weston | Navy |
| Vietnam Era | Kittel | Roger | Wausau | Army |
| Vietnam Era | Krejci | Kenneth | Wausau | Army |
| Vietnam Era | Krueger | Elroy | Edgar | Navy |
| Vietnam Era | Ladwig | Walter | Wausau | Army |
| Vietnam Era | Lomax | Lawrence | Marshfield | Air Force |
| WW II | Lynn | Chester | Phelps | Army |
| Vietnam Era | Meives | George | Phillips | Navy |
| Vietnam Era | Mielke | Roger | Loyal | Army |
| Vietnam Era | Miller | Brian | Birchwood | Army |
| Vietnam Era | Miller | Gene | Athens | Air Force |
| Vietnam Era | Mortenson | Thomas | Rothschild | Army |
| Vietnam Era | O'Heron | Joseph | Wausau | Army |
| Vietnam Era | Olsen | Peter | Mequon | Army |
| Vietnam Era | Oster | Thomas | Hazelhurst | Navy |
| Vietnam Era | Ostrum | James | Wisconsin Rapids | Army |
| Vietnam Era | Partridge | Richard | Wausau | Navy |
| Vietnam Era | Perrin | Norman | Medford | Army |
| Vietnam Era | Pettit | Jack | Wausau | Air Force |
| Vietnam Era | Pflieger | Eugene | Hatley | Air Force |
| Vietnam Era | Plath | Gary | Wausau | Air Force |
| Vietnam Era | Pliska | Robert | Stevens Point | Army |
| Vietnam Era | Rasmussen | Gregory | Marshfield | Marines |
| Vietnam Era | Reed Sr. | Willie | Mosinee | Navy |
| Vietnam Era | Ricci | Joseph | Wausau | Navy |
| Vietnam Era | Robaczewski | Edward | Gilman | Air Force |
| Vietnam Era | Roth | Leesa | Merrill | Air Force |
| Vietnam Era | Ruesch | Mark | Medford | Army |
| Vietnam Era | Sampson | Roger | Wisconsin Rapids | Army |
| Vietnam Era | Sauer | Charles | Canfield | Navy |
| Vietnam Era | Schillinger | Donald | Wisconsin Rapids | Army |
| Vietnam Era | Schmitt | Rodney | Green Bay | Army |
| Vietnam Era | Schug | Norbert | Stevens Point | Marines |
| Vietnam Era | Schwartzman | Duane | Rhinelander | Navy |
| Vietnam Era | Sernovitz | Dennis | St. Germain | Army |
| Vietnam Era | Seymour | Michael | Ringle | Army |
| Vietnam Era | Slinkman | John | Vesper | Air Force |
| Vietnam Era | Smilko | Anthony | Iron River | Navy |
| Vietnam Era | Sorensen | Jack | Rhinelander | Army |
| Vietnam Era | Southworth | Daniel | Aniwa | Army |
| Vietnam Era | Stachovak | David | Wausau | Navy |
| Vietnam Era | Stange | John | Anderson | Air Force |
| Vietnam Era | Syring | Allen | Wausau | Marines |
| Vietnam Era | Syring | Leroy | Stratford | Army |
| Vietnam Era | Telschow | Gordon | Stratford | Army |
| Vietnam Era | Telschow | Leon | Stratford | Army |
| Vietnam Era | Terek | Donald | West Allis | Army |
| Vietnam Era | Thompson | Lynn | Stevens Point | Navy |
| Vietnam Era | Thorpe | Roger | Aniwa | Army |
| Vietnam Era | Vinson | Larry | Wausau | Navy |
| Vietnam Era | Wadzinski | James | Wausau | Army |
| Vietnam Era | Weller | Keith | Weston | Army |
| Vietnam Era | Williams | Theodore | Wausau | Army |
| Vietnam Era | Winburn | John | Elcho | Army |
| Vietnam Era | Wolf | Larry | Eagle River | Marines |
| Vietnam Era | Wolff | Bradley | Eland | Air Force |
| Vietnam Era | Wrycza | James | Custer | Army |
| Vietnam Era | Zuleger | Werner | Marathon | Army |